---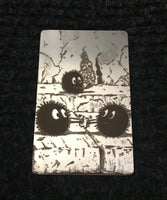 "Soot Sprites" Laser Engraved Stainless Steel Patch
Everyone need some soot sprites in their life!

Original artwork by Matthew Sutton
This is the Second design with this wonderful artist. You can find more of his artwork at the link below.

Instagram@Sketchbooks

2.125" x 3.375" same size as of an average credit card. .020" thick stainless steel. The back of each one is etched with the design name, date made, Individually numbered, and with hook and loop backing.

Only 50 made, never to be made again.