---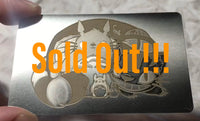 SS laser engraved "Love your Neighbors "

Original artwork by Chocolate Raisin Fury
This is just the first of several designs to come thanks to the collaboration with this wonderful artist. You can find more of her artwork at the links below.

https://www.facebook.com/chocolateraisinfury/

https://www.instagram.com/chocolateraisinfury/

https://twitter.com/VenetiaJackson

2.125" x 3.375" same size as your average credit card. .020" thick stainless steel. The back of each one is etched with the design name, date made, Individually numbered, and with hook and loop backing.

Only 30 made, never to be made again.